The Nintendo 64 is often regarded as a revolutionary game console that ushered 3 dimensional gaming into the homes of many, with dozens of classics like
Mario 64
,
Mario Kart 64
,
Ocarina of Time
,
Majora's Mask
,
Goldeneye
,
Banjo Kazooie
,
StarFox 64
,
Conker's Bad Fur Day
, and...um...
...
...yeah, great console 10/10
As influential the N64 and its games were, I have a few major problems with the console. If you like it, that's great. I still like the console, but these flaws keep me from loving it and wanting to keep it around. Keep in mind that this is gonna be satirically exaggerated for comedic purposes, so don't go total fanboy and defend the console disrespectfully. That being said, counter-opinions are always welcome.

1) The controller
Just look at it. Does this look comfortable to you? The answer is no, and I don't think anyone on the planet absolutely loves this controller. Of course, it was the first of its kind, and no other company used an analog stick as a main feature on a controller before, but the way they designed it does not hold up.
There are two ways to hold the controller for different games; left hand on the middle grip and right hand on the right grip, or left hand on the left grip and right hand on the right grip. Unless you have the instruction manual that was likely thrown out with the game's cardboard box, the game doesn't tell you which way to hold the controller. That being said, there is a pattern; 3D games mostly use the former and 2D games mostly use the latter respectively, to gain access to either the Control Stick or directional pad.
Speaking of the Control Stick...it's the worst thing about this controller. Just about any person who owned a Nintendo 64 had to put up with loose and non-functioning Control Sticks. Those that tried to fix them by putting tape under the Stick would find frustration when it became loose again after 2 weeks, when the rest of us were too busy blistering our palms on
Mario Party
minigames.
Sega proved just a few months later that a better and more comfortable 3D gaming controller could be made with their Starship Enterprise-shaped Saturn 3D Control Pad:
Oh, and remember when I said that the N64 controller was one of the first to implement an analog stick? Nope; Sega did that first with the Mega Drive XE-1 AP controller (yeah, it wasn't made by Sega and looks ugly as hell but still)
Thankfully, when Nintendo drops the ball, the fans pick it up, and same is the case with the N64 controller; you can pick up a newly-made Brawler 64 controller by Retro Fighters that is modeled after the Xbox 360 controller.
It even has a Turbo button; thank you Retro Fighters! As for Nintendo, they would eventually redeem themselves with the GameCube controller.
2) No end labels on cartridges
Another big flaw with the N64 that Nintendo made intentionally. You see, the reason why most cartridges you see around don't come with the box (unless it's a sturdy box like the Sega Genesis/Mega Drive's) is because they simply don't need them; some cartridges are damn near indestructible, and don't need the cardboard boxes used by Nintendo to protect them...or did they?
Nintendo suddenly decided that the boxes actually are worth something, and said it in a very sneaky way;
removing end labels on N64 cartridges.
Did this tactic work?
Heck no. Again, as for the case of the controller, this has also been alluded and fixed by fans; homemade N64 end labels have been in production for a while now, so thanks to you people as well. We never thought that the big N would take inspiration from the Atari 5200 like this.
3) Game library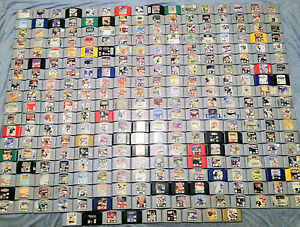 Literally every North American Nintendo 64 game
"What are you talking about? The N64 has amazing games!!!1!" That is most definitely true; Mario 64, Ocarina of Time, Majora's Mask, Mario Kart, and the various games from Rareware are all great titles, and can easily be a good reason to get an N64. But aside from the excellent support from Nintendo and Rareware, what else is there?
Shovelware.
Mediocre exclusives.
Inferior ports from other consoles.
Every time I hear people talk about the N64, it's the same 15 or 20 so games. This is because the N64's game library is a vast, open sea polluted by bad third-party games and ports. Nintendo and Rareware served as small islands to seek shelter on. Compare this to the Sega Saturn, which had great first-party support and decent third-party support in Japan, totaling to about 1200 games internationally. And let's not even get into the PS1's library; God knows how many games that console had (and maybe Google knows too, go ask him).
4) The games themselves
Seeing a pattern here?
I'm pretty sure that 98% of the N64's library is consumed by 3D-oriented games. This was during an era when 3D gaming was in its infancy and still wasn't quite
there
yet. The first true 3D platformer was on the N64; Super Mario 64 of course, which was a revolutionary game that changed our perspective on home console gaming. What ensued was a rush for 2D franchises to jump into 3D as fast as possible; some performed it gracefully, but not perfect (Mario 64), some required a lot of time and building towards, but still turned out good in the end (Sonic Adventure), and some sucked so much that it resulted in the subsequent death or drought of the franchise (Bubsy 3D).
Even if the 3D kind of sucked on these consoles, they had a fair amount of 2D awesomeness to make up for it. Sega Saturn has a plethora of 2D games, PS1 has a sizeable amount as well. But the N64? You'd be lucky to find one shoot-em-up game. As for role-playing games, the N64 has...what, two I think? The obvious one is Paper Mario, which is good, but doesn't live up to Super Mario RPG on the SNES, and Quest 64, which was...okay.
The big reason for a lack of RPGs was the limited storage space of the format Nintendo decided to use in this era; 16MB cartridges, instead of the flashy, shiny and cost-effective CD-ROM format that the PS1 and Sega Saturn used. Whatever the reason may be (it was probably the trouble they had with Sony and the SNES CD add-on), it ended up biting back when Squaresoft infamously left Nintendo to make Final Fantasy VII on the PS1 because of the storage limitations of cartridges. This also meant no full-motion video and bit-crunched sound effects and music on games and ports for the N64. Developers drove away from Nintendo to develop for the more capable, more cost-effective and leading console in the war, the Sony PlayStation, and in some cases, the Sega Saturn as well.
However, all of these points come together to form the biggest problem with the N64 and, really, all consoles of the fifth generation:
5) Experimentation
"A person who never made a mistake never tried anything new." -Albert Einstein
With experimentation comes flaws; that's just how it is. Eventually the bugs will be worked out, and the product would get better over time. This is the most important thing to remember about the N64. As fun as it was to point out its flaws, the N64 serves as a stepping stone in the history of gaming, as it encouraged game and hardware developers to move forward, to innovate, and to try new things. It was a very experimental console and a sign of the times, but perhaps that was for the better, as it paved the way for newer consoles to surpass it and become more successful than it was.
It also spawned Nintendo's brilliant ability to redefine the way we think of gaming, for better or for worse.
WORSE! WORSE! DEFINITELY WORSE!