So it seems from this fancy colorful chart here that people have been having games just about every 2 days!
And I have been just sarcastically lucky enough to miss it every time . Lol n stuff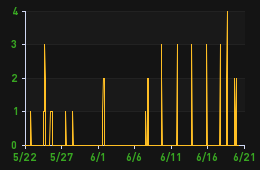 So for all looking to play some more quake 3 Just get on!!
Maybe we can use PSO or something to meet up to play some other games =)
Also I threw my excessive server up again just for kicks! has bots so you can hang out and wait for others, Its only 1 map with no voting for reasons, it has bots and I don't know which maps crash , also dreamcast won't load any weapons that aren't in the map the others are just invisible and that map has the most available weapons on it so there lol.
Pease try not to use rockets on the excessive server! way too laggy lol