Maybe you guys can tell me the 2002 EGM system reviews ? :
People complained I put parts or most of this in their thread, so now I'm making it its own thread. EGM system and game reviews from 1989 to 2001. If anybody wants to add to it, please do. This is meant to be Sega related.
Anyway, one of egm best issues.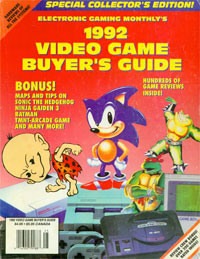 Edit. Just in case anybody is interested.
Sun Aug 05, 2012 11:30 am

- 1989 -

..........................................................

- 1990 -

..........................................................

- 1991 -

..........................................................

- 1992 -

..........................................................

- 1993 -

Game of the Year - Street Fighter II (SNES)

SNES GOTY - Street Fighter II

Genesis GOTY - Sonic the Hedgehog 2

NES GOTY - TMNT 3

TurboGrafx GOTY - Air Zonk

Portable GOTY - Sonic the Hedgehog 2 (GG)

RPG of the Year - Cosmic Fantasy 2 (TG16)

Sports Game of the Year - John Madden '93 (GEN/SNES)

Action/Adventure Game of the Year - Super Star Wars (SNES)

Most Innovative New Game - Out of this World

Best Graphics - Viewpoint (NG)

Best Music - Viewpoint (Cart) / Gate of Thunder (CD)

Best Video Game System - Super NES

Best New Peripheral - Sega CD

Best Sequel - A Link to the Past (SNES)

Most Number of Sequels - Mega Man 5 (NES)

Best Ending - Street Fighter II (SNES)

Best New Character - Tails (GEN)Hottest Babe - TIE: Chun Li / Blaze (Streets of Rage 2)

Video Game Babes to Hot for the U.S. - Dragon Knight 2 (PCE)

Best Licensed Game - Batman Returns (GEN)

Best Movie-to-Game - Super Star Wars (SNES)

Best Cartoon-to-Game - Death Valley Driver

Strangest License - Incredible Crash Test Dummies

Best Game System That is a Year Late - Super SNES CD-ROM

Worst Sequel - Home Alone 2

Best Trick that Didn't Work - Sheng Long in Street Fighter II

Worst Movie-to-Game - The Rocketeer

Most Lawsuits - Sega
Dumbest Lawsuit - Sega vs. Jan Coyle

Best Game that Never Came out in the U.S. - Parodius (SNES?)

Best Game Rumor - Street Fighter II for Genesis and Turbo Duo / Street Fighter III for the arcades

(System Scores - Steve Harris / Ed Semrad / Martin Alessi / Sushi-X)

NES - 4 / 4 / 4 / 5

SNES - 9 / 8 / 9 / 9

Master System - 2 / 2 / 3 / 3

Genesis - 8 / 8 / 8 / 8

TurboGrafx - 6 / 6 / 5 / 4

Neo-Geo - 7 / 6 / 7 / 6

GameBoy - 6 / 4 / 5 / 2

Lynx - 5 / 4 / 5 / 7

Game Gear - 4 / 5 / 6 / 7

Turbo Express - 6 / 7 / 7 / 6

Sega CD - 8 / 9 / 8 / 8

Turbo Duo - 7 / 7 / 7 / 6

..........................................................

- 1994 -

Game of the Year - Samurai Shodown (Neo-Geo)

SNES GOTY - Street Fighter 2 Turbo

Genesis GOTY - Aladdin
Sega CD GOTY - Sonic CD

TurboGrafx GOTY - Bomberman '93

Neo-Geo GOTY - Samurai Shodown

NES GOTY - Kirby's Adventure

Game Boy GOTY - Legend of Zelda: Link's Awakening

Game Gear GOTY - Sonic Chaos

Best RPG - Secret of Mana (SNES)

Best Fighting Game - Samurai Shodown (Neo-Geo)

Best Shooter - StarFox (SNES)

Best Action Game - GunStar Heroes (GEN)
Best Sports Game - Madden '94 (GEN/SNES)

Best Driving Game - Rock and Roll Racing (SNES)

Best SF2 Wannabee - Clay Fighter (SNES)

Bloodiest Game - Robocop vs. The Terminator (GEN)

Best New Character - Aero the Acrobat (SNES)

Hottest Game Hunk - Goro (Mortal Kombat)

Hottest Game Babe - Cammy (Super Street Fighter II Turbo)

Most Hype for a Character - Bubsy

Dumbest Peripherials - Sega's/EA's four Players Adapter (Genesis)

Most Controversial Game - Mortal Kombat

Worst System Launch - 3DO

Game Company with Worst Reputation - THQ

Most Improved Game Company - THQ

Best Trick That Didn't Work - Street Fighter II (Arcade)

Best Music - Actraiser 2 (SNES)

Best Sound Effects - Clay Fighter

Best Animation - Aladdin (GEN)

Most Lawsuits - Nintendo vs. Atari

Best Lawsuit Results - Sega vs. Accolade

Best AD - Clay Fighter

Best Movie to Game - Aladdin (GEN)

Worst Movie to Game - Home Alone 2 (SNES)

Best Game Duo - Pocky & Rocky (SNES)

Most Sports Sequels - John Madden '94

(System Scores - Ed / Danyon / Martin / Sushi-X)

Super Nintendo - 9 / 9 / 9 / 9

Genesis - 8 / 8 / 7 / 8
Sega CD - 6 / 7 / 7 / 6

Turbo Duo - 4 / 6 / 5 / 6

Neo-Geo - 7 / 8 / 7 / 8

3DO - 6 / 7 / 8 / 8

Jaguar - 7 / 7 / 7 / 7

Amiga CD - 7 / 8 / 8 / 8

Laseractive - 5 / 5 / 6 / 8

Philips CD-I - 4 / 6 / 7 / 7

NES - 3 / 4 / 4 / 5

Game Boy - 3 / 5 / 3 / 3

Game Gear - 7 / 8 / 6 / 4

Atari Lynx - 3 / 4 / 3 / 5

Turbo Express - 4 / 4 / 3 / 7

..........................................................

- 1995 -

Game of the Year - Donkey Kong Country (SNES)

SNES GOTY - Donkey Kong Country

Genesis GOTY - Earthworm Jim
Sega CD GOTY- Ground Zero: Texas

3DO GOTY - Road Rash

Neo-Geo GOTY - King of Fighters '94

Jaguar GOTY - Tempest 2000

Game Boy GOTY - Donkey Kong '94

Game Gear GOTY - Bubble Bobble

CD-I GOTY - Burn: Cycle

Best Fighting Game - King of Fighters ' 94 (Neo-Geo)

Best Shooter - R-Type III (SNES)

Best Action Game - Super Metroid (SNES)

Best Sports Game - NBA Jam (SNES)

Best Driving Game - Road Rash (3DO)

Best RPG - Final Fantasy III (SNES)

Best New Character - Earthworm Jim (GEN)

Bloodiest Game - Mortal Kombat II (Arcade)

Most Improved Company - Takara

Hottest Game Hunk - (Tie) EGM's Al Manuel & U.S. Gold's Incredible Hulk

Hottest Game Babe - Mai Shiranui

Best Shooter (Japanese) - Macross: Scrambled Valkyrie (SNES)

Best RPG (Japanese) - Final Fantasy VI (SNES)

Best Action Game (Japanese) - Dracula X (PCE)

Best Music Cartridge - Final Fantasy III (SNES)

Best Music CD - Road Rash (3DO)

Best Sound Effects - Sparkster (SNES)

Best Animation - Donkey Kong Country (SNES)

Worst Movie to Game - Cliffhanger (SNES/GEN)

Best Movie to Game - Super Return of the Jedi (SNES)

Best Game Duo - Donkey & Diddy Kong (SNES)

Best AD - Equniox (SNES)

Most Appalling Trend - Too Many fighting Games

Trick of the Year (Arcade) - The Akuma Codes (Arcade)

Trick of the Year (Home Systems) - Megaman X's Fireball Trick (SNES)

Most Anticipated Release - Mortal Kombat II (Home Systems?)

Grossest Character - Boogerman (GEN)

Worst System Lanuch - Jaguar

Strangest Game - Agressors of Dark Kombat (Neo-Geo)

(System Scores - Ed / Danyon / Al Sushi-X)

Super Nintendo - 9 / 9 / 8 / 9

Genesis - 7 / 8 / 7 / 7

Sega CD - 5 / 5 / 5 / 5

Neo-Geo - 7 / 6 / 7 / 8

3DO - 7 / 9 / 7 / 7

Sega 32X - 8 / 7 / 8 / 8

Jaguar - 6 / 4 / 4 / 4

Neo-Geo CD - 8 / 8 / 7 / 8

Philips CD-I - 7 / 8 / 5 / 5

Lazeractive - 4 / 3 / 4 / 4

Game Boy - 5 / 7 / 5 / 5

Game Gear - 6 / 8 / 6 / 7

NES - 2 / 2 / 2 / 2

Amiga CD - 2 / 2 / 2 / 3

..........................................................

- 1996 -

Game of the Year - Twisted Metal (PSX)

SNES GOTY - Chrono Trigger

Arcade GOTY - Tekken 2

Genesis GOTY - Vectorman

Playstation GOTY - Twisted Metal

Saturn GOTY - Panzer Dragoon

3DO GOTY - Gex

Virtual Boy - Red Alarm

Sega CD GOTY - Lunar: Eternal Blue
32X GOTY - Virtual Fighter

Game Boy GOTY - Donkey Kong Land

Game Gear GOTY - Super Return of the Jedi

Neo-Geo GOTY - King of Fighters '95

Jaguar GOTY - Cannon Fodder

Best Fighting Game - Battle Arena Tochinden (PSX)

Best RPG - Chrono Trigger (SNES)

Best Flight Sim - Air Combat (PSX)

Best Action Game - Yoshi's Island (SNES)

Best Sports Game - NFL GameDay (PSX)

Best Driving Game - Ridge Race (PSX)

Best Shooter - Philosoma (PSX)

Best New Character - Rayman

Best Game Hunk - Fo (Toshinden)

Best Game Babe - Sophia (Toshinden)

Best Sound Effects - Twicted Metal (PSX)

Best Music Cartridge - Chrono Trigger (SNES)

Best Music CD-Rom - Rayman (PSX/SAT?)

Best Animation - Rayman (PSX/SAT?)

Beat Peripheral - PSX Memory Card

Best Movie to Game - True Lies (GEN/SNES)

Worst Movie to Game - Batman Forever (PSX)

Best AD - Loaded (PSX)

Best Game Intro - Philosoma (PSX)

Worst System Lanuch - Jaguar CD

Most Anticipated Release Software - Mortal Kombat 3 (Home Version)

Most Anticipated Release Hardware - Playstation

Strangest Game - Jumping Flash (PSX)

Worst Sequel - Batman Forever (PSX)

Biggest Game Flop - Mazer (by American Lazer Games)

Most System Peripherals - Sega: Activator, Mencer

Game on Most Systems - Myst

(System Scores - Andrew / Mark / Mike / Scott)

Super Nintendo - 7 / 8 / 7 / 8

Genesis - 6 / 4 / 5 / 6

Playstation - 9 / 10 / 9 / 9

Saturn - 8 / 6 / 7 / 8
Sega CD - 2 / 2 / 3 / 3
32X - 3 / 3 / 3 / 2

Neo-Geo CD - 6 / 7 / 7 / 7

3DO - 7 / 5 / 6 / 7

Jaguar - 2 / 2 / 3 / 3

Virtual Boy - 5 / 6 / 5 / 5

Game Boy - 5 / 6 / 4 / 4

Game Gear - 7 / 7 / 7 / 8

..........................................................

- 1997 -

Game Most Bought by EGM staff - Tetris Attack (SNES)

Worst Game for Kids - Virtua Fighter Kids (SAT)

Biggest Vaporware - M2

Game Company with most Promise - Capcom

Most Killing in a Game - Die Hard Trilogy (PSX)

Best Sound Effects - Star Wars: Shadows of the Empire (N64)

Game System with One Foot in the Grave - 3DO

Hottest Game Hunk - Oliems (Tobal No. 1 / PSX)

Hottest Game Babe - Lara Croft (Tomb Raider / PSX/ SAT)

Deadest System of the Year - Jaguar

Most Addictive Game - Tetris Attack (SNES)

Worst Sequel - Rise 2 (3DO)

Strangest Enemy - Walking Butts (PO'ed / 3DO)

Best Introduction - Gun Griffon (SAT)

Game That The Pope Wouldn't Buy - Re-Loaded (PSX)

Full Frontal Nudity - Three Dirty Dwarves (SAT)

Best Ending - Tekken 2 (PSX)

Best Print Ad - Sega Saturn

Weirdest Print Ad - Krazy Ivan (PSX)

Worst Voice Acting - Resident Evil (PSX)

Best Packaging - Psychopad K.O.

Worst Packaging - Psychopad K.O.

Most Military Propganda - Return Fire (3DO)

Anti-Drug Message - Black Dawn (PSX/SAT)

Coolest Fighting Game Move - King's OctopusCombo (Tekken 2 PSX)

Worst Game Based on a Movie - Congo (SAT)

Game that Should Have Stayed on the PC - System Shock (SAT)

Biggest Cross Platform Title - Mortal Kombat Series

Best Sports Game for People Who Don't Like Sports - Decathlete (SAT)
Most Educational Game - Baku Baku Animal (SAT)

Best Television Ad - Crash Bandicoot (PSX)

(System Scores - Dan Hsu / Crispin Boyer / Shawn Smith / Sushi-X)

Nintendo 64 - 7.5 / 10 / 9.5 / 9.0

Playstation - 8.0 / 9.0 / 8.0 / 8.5

Sega Saturn - 7.5 / 7.0 / 6.5 / 7.0

Virtual Boy - 3.0 / 2.0 / 2.5 / 2.0

Game Gear - 5.5 / 4.0 / 5.0 / 8.5

Game Boy Pocket - 4.5 / 7.5 / 8.0 / 7.0

Sega Nomad - 7.5 / 6.0 / 5.5 / 7.5

Super Nintendo - 9.0 / 8.0 / 8.0 / 7.5

Genesis - 4.5 / 4.0 / 4.5 / 4.0

3DO - 3.5 / 3.5 / 3.0 / 3.5

Neo-Geo CD - 4.5 - 4.0 - 5.5 - 5.0

..........................................................

- 1998 -

Game Most Bought by the EGM Staff - Mario Kart 64 (N64)

Most Addictive Game - GoldenEye 007 (N64)

Biggest Vaporware - M2

Best Voice Acting - Oddworld: Abe;s Oddysee (PSX)

Worst Voice Acting - Mega Man 8 (PSX/SAT)

Best Middle - Castlevania: Symphony of the Night (PSX)

Worst Makeover: Pandemonium's Nikka (PSX)

Back from the Dead - Game Boy (Pocket)

Games That Should've Stayed on the PC - Hexen

Games That Should've Stayed in the Acrade - War Gods

Most Diarrhea in a Game - PaRappa the Rapper (PSX)

Coolest PR Goodies - E3: Resident Evil Squishy Eye

EGM's Favorite Non Work Related Activity - Decapitato

Worst Music - NASCAR '98 (PSX)

Hottest Game Babe - Tifa Lockheart (FF7/PSX)

Hottest Game Hunk - John Madden (Madden '98)

Most Overexposed - Lara Croft

Best Movie to Game - Goldeneye 007 (N^$)

Worst Movie to Game - The Crow: City of Angels (PSX)

Worst Use of a Good License - Fantastic Four (PSX)

Worst Use of Adam West - Golden Nugget (PSX)

Most Hype for a Game - Final Fantasy VII (PSX)

Best Sequel - Castlevania: Symphony of the Night (PSX)

Most Disappointing Sequel - FIFA 64 (N64)

Biggest Reason For Missed Deadlines - Goldeneye 007 (N64)

Best use of Silicon - Lara Croft (PSX)

Best Cure for Insomnia - Tail of the Sun (PSX)

Best Intro - Soul Blade (PSX)

Worst Intro - The Crow: City of Angles (PSX)

Best Ending - Final Fantasy VII (PSX)

Game You Need a Ph.D to Play - Carnage Hearts (PSX)

Best Use of Treats - Harvest Moon (SNES)

Most Promising Game Company - Rare

Biggest 180-Degree Turnaround - Acclaim

Best Print Ad - Final Fantasy VII (PSX)

Worst Print Ad - Nanotek Warrior

(System Scores - Shawn Smith / Dan Hsu / Crispin Boyer / John Ricciardi / Sushi-X)

Nintnedo 64 - 8.0 / 7.0 / 7.5 / 7.5 / 9.0

Playstation - 9.5 / 8.5 / 9.0 / 9.0 / 9.5

Saturn - 6.5 / 7.5 / 5.0 / 5.0 / 8.5

Super Nintendo - 5.5 / 8.0 / 7.0 / 7.0 / 8.0

Genesis - 4.5 / 5.0 / 4.0 / 4.5 / 7.5

(Handheld Scores - Shawn Smith / Crispin Boyer / John Ricciardi / Sushi-X)

Game Boy Pocket - 7.5 / 7.0 / 8.0 / 2.0

Game.com - 5.5 / 4.5 / 5.0 / 4.0

Nomad - 8.0 / 6.5 / 7.0 / 7.5

..........................................................

- 1999 -

Game Most Bought by the EGM Staff - Tekken 3 (PSX)

Best Party Game - WCW/nWo Revenge (N64)

Biggest Vaporware - N64DD

Coolest Gosses G. Darius (PSX)

Worst Use of a License - Spawn (PSX)

Worst Music - Spice Girls

Retro Game That Should've Stayed Retro - Pitfall 3D (PSX)

Best Artwork - Metal Gear Solid (PSX)

Game Most Likely to Drive You Lnsane - Colony Wars: Vengeance (PSX)

Game That Should've Stayed in the Arcades - San Francisco Rush (N64)

Best Butt Shot - Metal Gear Solid (PSX)

Worst NFL Bliz Rip-Off - NFL Xtreme (PSX)

Best Showing of Wood - Mokujin (Tekken 3/PSX)

Best Cure for Insomnia - Legend of the River King (GB)

Hottest Game Babe - Tiffany (Rival Schools/PSX)

Hottest Game Hunk - Mokujin (Tekken 3/PSX)

Most Annoying Character - Brian (Quest 64/N64)

Best Voice Work - Metal Gear Solid (PSX)

Worst Voice Work - The Grandstream Saga (PSX)

Best Voice Work w/o Real Voices - Banjo-Kazooie (N64)

Most Hype for a Game - Metal Gear Solid (PSX)

Best Play-by-Play - NHL 99 (PSX)

Best Sequel - Tekken 3 (PSX)

Most Disappointing Sequel - Yoshi's Island 64 (N64)

Best Way to Destroy a Franchise - C: The Conta Advanture (PSX)

#1 Game We Love to Hate - NFL Xtreme (PSX)

#1 Game We Hate to Love - Jeopardy! (N64)

Best Ending - Metal Gear Solid (PSX)

Worst Ending - Quest 64 (N64)

Best Intro - Resident Evil 2 (PSX)

Best Special Effects - Metal Gear Solid (PSX)

The Fashionably Late Award - Body Harvest (N64)

Best Reason to Use a Mute Button - Gex 64 (N64)

Best Use of a Vibrator - Metal Gear Solid (PSX)

Most Improved - Tecmo

Best Print Ad - Trubo Prop Racing (PSX)

Worst Print Ad - Crach Bandicoot (PSX)

Game Bob Vila Would Enjoy Playing - WWF War Zone (N64/PSX)

Game Most Likely Yo Take Years To Finish - Zelda: The Ocarina of Time (N64)

(System Scores - John Davison / Dan Hsu / John Ricciardi / Shawn Smith / Sushi-X)

Playstation - 9.0 / 8.5 / 9.0 / 9.0 / 9.0

Nintendo 64 - 8.0 / 8.0 / 7.5 / 8.5 / 7.5

Game Boy Pocket - N/A / 4.5 / 8.0 / 7.5 / 2.0

Nomad - N/A / 6.0 / 6.5/ 6.5 / 6.0

..........................................................

- 2000 -

Best Sequel - Soul Calibur (DC)

Worst Sequel - NFL Quarterback Club 2000 (N64)

Biggest Vaporware - Nuon

Most Hyped, Most Delayed - Perfect Dark (N64)

Best Party Game - You Don't Know Jack (PSX)

Most Ridiculously Ecpensive Game - Donkey Kong 64 (N64)

Most Number of Sequels Within a Sequel Street Fighter 3rd Strike (AC)

Retro Game that Should've Stayed Retro - Centipede (DC/PSX)

Game Most Bought by the EGM Staff - Soul Calibur (DC)

Most Innovative Controls - Ape Excape (PSX)

Worst Use of a License - Superman (N64)

Coolest Japanese Game (That Will Never Come Out Here) - Pepsi Man (PSX)

Game Most in Need of a Director's Cut - Lok: Soul Reaver (PSX)

Most Worthless Accessory - Dance Performer (by Naki)

Game Franchise We're Most Sick Of - Mortal Kombat

So Cute It Makes Us Sick - Pokemon Snap (N64)

Best Reason to Grow a Mullet - NASCAR 2000 (PSX)

Best Reason for Kryptonite - Superman (N64)

Most Blantant Pimping of a Mascot Character - Chocobo in Chocobo Racing (PSX)

Game that Should've Been the Coolest but was Crap - Superman (N64)

Hottest Game Babe - Soul Calibur Gals (DC)

Hottest Game Hunk - E-Sak of WWF Attitude (N64)

Best Dressed - The House of the Dead 2 Crew (DC)

Best Game for Lesbians - Xena: Warrior Princess (PSX)

Biggest Comeback - Sonic the Hedgehog

Most Blantant Rip-Off - Donkey Kong 64 ripping off BanjoKazooie ripping off Super Mario 64

Hardest Game - Choanki: Great Brother (PSX/JPN)

Biggest Loser in this Year's Awards - Superman (N64)

(System Scores - Che Chou / John Davison / Dan Hsu / Chris Johnson / Shawn Smith)

Dreamcast - 8.5 / 8.5 / 8.5 / 8.0 / 9.0

Playstation - 9.0 / 9.5 / 8.0 / 9.0 / 8.5

Nintendo 64 - 9.5 / 8.5 / 8.0 / 6.0 / 6.5

Game Boy Color - 9.0 / 9.0 / 3.5 / 9.0 / 6.0

..........................................................

- 2001 -

Most Disappointing Sports Title - World Series Baseball 2001 (DC)

Biggest Time Sucker - RPG Maker (PSX)

Best Sequel - Chrono Cross (PSX)

Game You Either Love or Leave - Ecco the Dolphin (DC)

Hardest Game - Alien Resurrection (PSX)

Most Disappointing Sequel - Legend of Mana (PSX)

Hottest Game Babe- Ulala (Space Channel 5/DC)
Most Innovative - Seaman (DC)

Hottest Game Hunk - Tony Hawk

Best Mullet Placement - Tony Hawk's Pro Skater 2 (DC/PSX)

EGM Editor's Most Bought Game - Perfect Dark (N64)

Best Game for Making Your Own Game - RPG Maker (PSX)

Best Sound Effects - Medal of Honor: Underground (PSX)

Less Is More Award - Ms. Pac-Man Maze Madness (PSX)

So Cute it Made us Sick - PS One (Hardware)

Ad We Never Want To See Again - Sega's Virtua Tennis Ad

(System Scores - Kraig Kujawa / Dan Leahy / Mark MacDonald / Greg Sewart / Michael Stassus)

Playstation 2 - 9.0 / 9.0 / 6.5 / 8.5 / 9.0

Playstation - 9.5 / 6.0 / 9.0 / 9.5 / 8.0

PC Computers - 6.5 / 7.5 / 6.0 / 6.5 / 8.0

Nintendo 64 - 8.0 / 6.0 / 5.0 / 7.0 / 6.0

Game Boy Color - 7.5 / 7.0 / 7.0 / 8.0 / 7.0

Dreamcast - 9.0 / 9.0 / 9.0 / 9.0 / 9.5

..........................................................

[youtube]0NYwBr8geDs[/youtube]